Long Live The Queen!!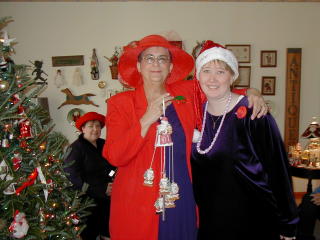 Royality at it's best!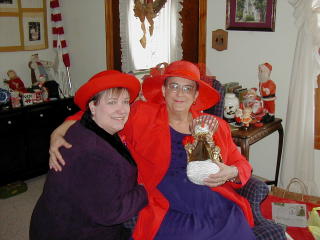 Queen Mum and Lady Lilly
Did we have a good time on Saturday at Jean Jones's house for our Christmas party? You bet we did! She can cook' and she can decorate a house!!! Thanks to Jean and to all who were able to attend. If you were not there,
we really missed you. The gifts were such fun. I got two extras that I love. Thank you Glenda and Gloria. I want to wish everyone a very Merry Christmas and a Happy New Year. Please be careful, have fun, and I will see you at my house the second Saturday in January.
October
If you missed the trip to the dairy experimental farm, you missed an extra special time. Glenda did an outstanding job of providing us with such a good time. The tour was very interesting, headed up by very gracious hosts. I can still taste the food, especially that melt in the mouth chicken. My cow favors are contentedly looking at me from a shelf as I type this news item. Thank you Glenda!

I will be having surgery November 5th so I doubt very seriously if I will go to the November function. I hope that all of you can attend.

There is a joke in the recent issue of Readers Digest that fits Red Hatters. An old lady is in a taxi and she is leaning over the seat, and giving the driver directions as to where she wants to go. She tells him, "Over the river and through the woods".

Heh! Heh! Love to you all. Betsy, Queen Mother
SEPTEMBER
Once again my loyal "subjects", the Queen City Red Hatters made me proud. Our outting to the nursing home was so very touching and special. The ability to sing was not as important as our presence and the joy we brought tothose older people. They latched on to their happies, and seemed to be think they were really special. Special thanks go to Princess D, Becky, and Janet for their help. I was out of town until Wednesday so I did not get a chance to award a Red Hatter of the Month, but I definately have someone in mind. I will make a presentation at out next meeting. Hope to see all of you in September.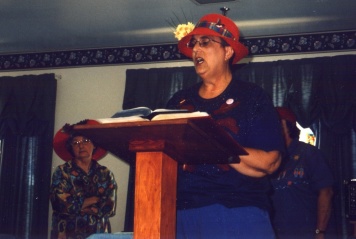 JULY
Long live our Queen! Honey every chapter should be so lucky as to have a Queen Mum like Besty!

So, onto our Queen's thoughts for the day.....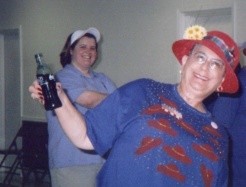 We had such a great time at the July bash today. A big thank you goes out to Tiffany(Princess D.D), Becky, Rita, Lynda, Wendi, and Cindy . The patriotic decorations were outstanding. A special thanks to Cindy and Wendi for the horse! You all did a great job! Counting fat grams and calories was not on the agenda, and nobody cared because the food was delicious. Way to go redhatters!!!
Is this site great, or what!
I recently made a trip to NC. While there I counted my Aunt Bet's monkey collection. She is 89 years old. She had 1,096 and has added on 2 more since my counting. Have you noticed a similarity in my name and hers? Yes, I was named for her. We a both Elizabeths. Is it any wonder that I am as crazy as I am?